At Klier Structural Movers we are not only house movers but also general contractors. The services we provide include moving, jacking, re-positioning, excavation under an existing structure or at a new site, structural repairs, basement walls, other masonry, concrete flat work, an array of basement upgrades, basement finishing, additions, and turnkey remodeling of the entire structure. Whatever the job, you can be assured we will handle it with great care and honesty. We pledge that we will keep you, the customer, informed along the way and that we will complete the job with excellence and to your satisfaction.
Whatever the job may be, we will handle it with the utmost of care and dedication.
---
New basements under existing houses
Many structures do not have usable basements. Some are nothing more than damp, dark, shallow old cellars. We can safely support your home, excavate beneath it and install a new masonry basement that is in every way equal or superior to the basement of any new structure. A new basement under an existing structure, though a big investment, is still the cheapest per square foot addition you can build. We'd love to talk with you about a new basement!
---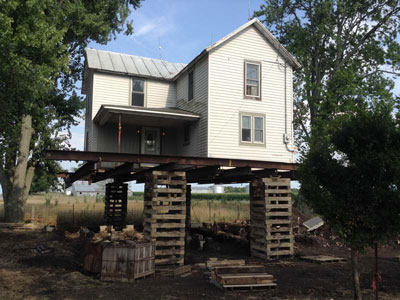 Underpinning or Jacking
Perhaps you are a masonry or general contractor, or you own your house and are comfortable taking on this task yourself. Our services are sure to meet your needs! Let Klier do the jacking or moving and excavating for you. We will leave the structure in a safely raised position for up to 30 days while you construct the basement walls. Once the walls are cured, we can set the structure back down and remove our equipment. This way you are taking the work and liability off yourself and placing it on a company that is equipped, insured, and experienced to do this work.
---
Adding a basement
Sometimes a house or other structure is on a crawl space or slab, but a basement is needed. We can safely and efficiently jack the structure up off the foundation and either add to that foundation or remove and replace it. In either case we are able to install a full height basement, adding an entirely new floor to the structure. The difference this makes is amazing.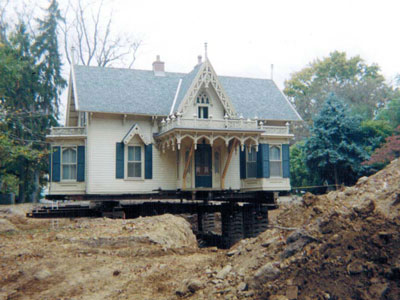 ---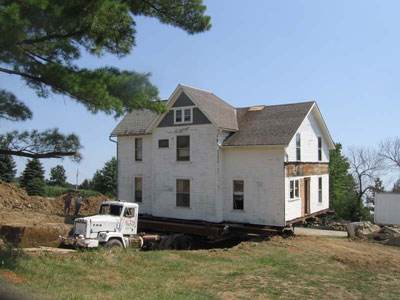 Repositioning on the same site
Maybe your need is for house moving on the same site. Perhaps you need to bring a building into compliance with easements, set backs, or other property line issues. Or in the case of a lot split, moving may allow for additional lots to be developed. Also a new location may be desirable to get the structure to a higher elevation or farther back from the road. On occasion, a move or rotation will allow for the construction of a garage or an addition. Further, you may just need to raise your home or building up out of flooding. Whatever the reason, we can move or jack any structure to your desired location or elevation.
---
House moving
Often a house can be obtained for free or at a very low price, with a catch — it has to be moved to a new location! If the house is in nice condition and built in the last 50 years, this can be a cost-effective idea. Keep in mind it will be going down the road so wires, tree limbs, signs, lights, and bridge overpasses may all be in the way. Often their removal can add up to more than the cost of the move. Literally any type of house or structure can be moved, but one-story structures are lower and better able to get down the road. House moving may be a very good way to go, but there are many factors to consider. Give us a call and we can help you evaluate your move!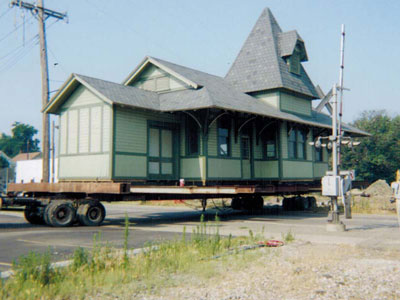 ---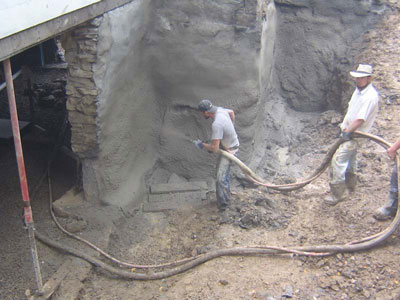 Structural repairs
Structural repairs could include just about anything on any type of structure: replacing entire foundations; replacing or rebuilding sills (the portion of the structure that sits directly on the foundation); replacing or adding posts or piers; installing, repairing, or replacing beams, trusses, rafters, joists, studs. Our services include structural repairs on wood-frame, timber-frame, post-frame, steel- frame or masonry buildings. Usually the repairs are to assure the building structural integrity, however, these repairs can be done in conjunction with making the structure more open and usable. The possibilities are endless.

---
Basement upgrades
You may not need a new basement, just an upgrade. Upgrade options include but are not limited to outside entrances, basement windows, window wells, egress windows with egress wells, walk-out doorways, adding height to the existing walls, radiant heat tubing in the floor, interior basement steps, and on and on. As with most of our work, we can go to the limits of your imagination.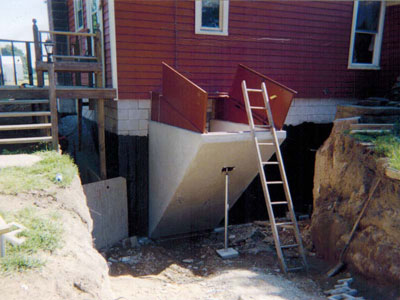 ---
Basement interior finishing.
We would be glad to discuss a complete finish for your new or existing basement. This could include insulation, interior partitions, drywall, ceiling finishes, heating & AC, lighting and electrical, floor covering, and more. Whether for children or grandchildren, entertaining guests, a home exercise area, space for home office or business and on and on, we can make your basement an integral part of your home. For all practical purposes a finished basement adds an entire new floor to your house!
---
Whole house remodeling and additions
Often our customers want to add more space at the time of their basement addition or structural move. Sometimes the entire house is in need of remolding to fit their personal needs. If this is your case, we can help. We can do the entire job right down to handing you the keys at completion of your newly remodeled home or other structure. Anything interior or exterior can be done within the limits only of your imagination and your budget. We would be excited to help you plan your dream home. Call us today!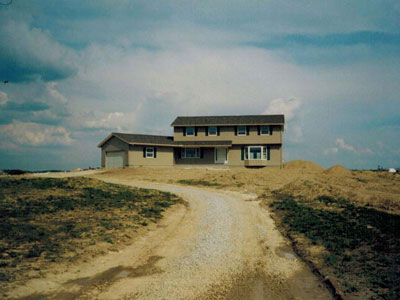 ---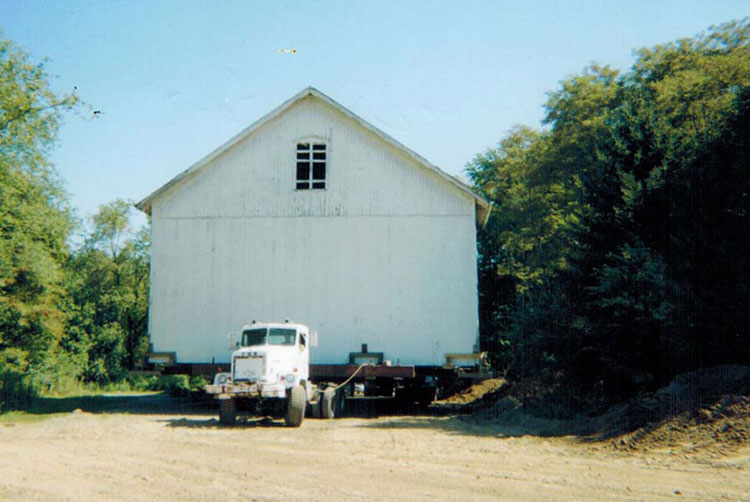 Barn moving and jacking
Barns, warehouses, and other utility structures are a common thing all over the area. Many of them are not being used to their fullest potential due to location, height, or foundation issues. Often for much less than the cost of new construction we can move or lift a structure allowing for a new foundation to be built or perhaps to add height for today's larger equipment. As with other types of buildings, size and construction type are not limiting factors. We have safely effectively lifted and moved older timber frame barns, newer post frame barns, and modern re-engineered steel structures. We are only a phone call or email away.
---
Historic preservation
We are blessed with many historic structures in our area. ("They don't build them like that anymore!") Sometimes these treasures are in a location that is needed for another use. Sometimes they are just in need of major foundation upgrades. Whether for a private individual, historical society, or municipality, we are ready to help.  Let us provide our services to help keep history an important part of our community. If you need a new foundation or are moving to an entirely new location, Klier Structural Movers is your company.